Our Music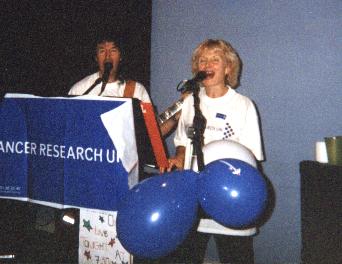 We sing songs from a wide variety of places and periods, ranging from high energy rock to folky ballads, and traditional gospel to R & B.
Artists we admire include Macy Gray, Whitney Houston and Bryan Adams. Some of us wish we sounded more like Massive Attack or Dreamtheater, others go for Boney M and the soundtracks to the Blues Brothers and Sister Act! We also rave about the worship music emanating from the Lakewood Church, Houston, Texas (now 30,000 strong) and from Hillsongs in Sydney, Australia.
We have in our repertoire some of the best contemporary choruses alongside some favourite hymns and spirituals. We sing in three part harmony, usually accompanied by keyboard and bass guitar but occasionally 'a cappella'.
We can supply a PA which is sufficient for most indoor and outdoor venues.
| | | | | |
| --- | --- | --- | --- | --- |
| Why are we called 'Mark One'? | Who is in Mark One? | Where have we performed? | When are we performing next? | How do you book us? |
Last updated 17th March 2006